Kalimba Percussion
The Kalimba is a meditative piano that helps you rest, focus on yourself, fantasize and travel through your inner world to a complete state of mindfulness. It belongs to the idiophone family (instruments that create sounds through the vibration of the material itself without requiring strings, membranes, or external resonators), among which it is classified as a lamellaphone.
The Kalimba is originally from Africa. It is a musical instrument that consists of a solid wood board, with a resonator, and staggered metal tines that are the keys to produce notes and sound. It is very easy to play: simple hold the Kalimba in your hands and pluck the keys back and forth with your thumbs to produce sound.
Its round corners and smooth surface design, made of natural wood through exquisite craftmanship work, makes the resonance more satisfactory and allows to deliver warm and longer-lasting sounds. The Kalimba delivers clear and bright tones, within 17 notes' keys, through its vibrato holes. You can tune your Kalimba by adjusting the direction of the steel keys to get the desired bass and high sounds.
The Kalimba is an amazing instrument to explore and cultivate your musical talent, as well as a great way to practice finger flexibility and coordination. Everyone, among every age range or skill level, can easily learn how to play the Kalimba and start developing new musical and earing abilities.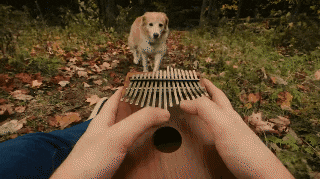 The Kalimba has a very special effect on people, who often become transfixed or mesmerized. It can be a very useful tool in healing, therapy, and relaxation techniques of all kinds. Our customers have included Reiki healers and all kinds of therapists, from new age, holistic therapies to those working with groups of children and the disabled.
About DRUME Music
The DRUME Music is a small company from the United States of America and we have been creating our own musical instruments since 2017. Focused on helping people relax and concentrate, we get inspired by nature to design sounds that help you reduce stress, relax, and make you happier.
The strong meditative tones of our drums and instruments are calming and great for relaxing anytime. Meditation. Yoga. Sound Therapy. Hiking. Camping. Musical Development. Simply place your hands on one of our DRUME Music products and instantly master the art of playing blissful music while entering a mindfulness state that you will want to return to in the future.
DRUME Music products are perfect for music education, yoga, meditation or even for beginners who want to learn how to play our instruments and experiment with new sounds and songs, developing new musical skills. There are no limitations or conditions to play DRUME Music instruments: you just need to be passionate about music, be willing to try new musical approaches and enjoy yourself while creating with DRUME Music products.
Kalimba Characteristics
The Kalimba is made of high-quality natural solid wood, a durable and stable material.
The Kalimba measurements are 5.31x1.18x7.28in or 13.5x3x18.5cm.
With the Kalimba you get:
17 Kalimba keys; learning book; tune hammer; cloth bag; 2 thumb protectors; 2 stickers; instruction guide
You should handle the Kalimba material carefully to hold up its highest level of quality for a longer period of time. You should clean it with gentle, non-abrasive products to maintain its durability.